No matter what industry your business is in, you need to track your money. It's virtually impossible to run a business without knowing your financial health.
That's where bookkeepers come in. They track all of the economic activity that flows in and out of your business.
But proper bookkeeping is more than entering numbers into a software program or an Excel spreadsheet. In this guide, we'll break down everything a bookkeeper does and why you can benefit from hiring one.
What is Bookkeeping?
Bookkeeping involves recording and storing your business' financial transactions and retrieving financial information wherever necessary. 
Financial transactions are recorded in the form of journal entries, a two (or more) part entry in the General Ledger (GL) that consists of at least one debit to one account and at least one credit to another. Hence, the term: double-entry bookkeeping.
A Short History of Bookkeeping
Bookkeeping dates back to the Babylonians in 2600 BCE. They used styli to record transactions in slabs of clay. You can then fast-forward to Renaissance Italy, where Luca Pacioli — the "Father of Accounting" — formalized the double-entry accounting system (debits and credits) used by Venetia merchants around 1494.
In colonial America, bookkeepers used "wastebooks." These were the temporary ledgers in which bookkeepers made chronological transactions. They then transferred these transactions to a permanent journal/ledger, and the "wastebooks" were thrown out — hence the name.
Bookkeepers vs. Accountants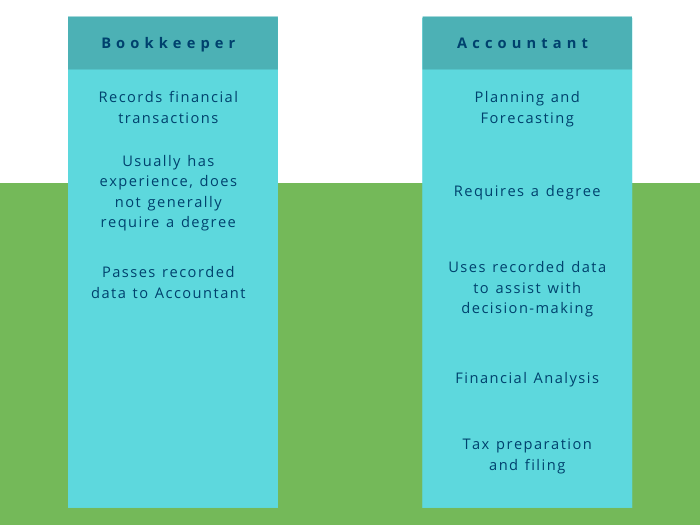 Although bookkeepers and accountants have some overlap, accounting is a higher-level and more subjective task. The latter can perform several functions that the former cannot.
Bookkeepers only record financial transactions in the correct accounts. They then pass these off to the accountant, who uses the information for a variety of purposes:
Adjusting entries
Tax planning and filing
Financial statement preparation (although bookkeepers may prepare financial statements in smaller businesses)
Financial analysis
Assisting with decision-making
Given the nature of the work, bookkeepers don't need an advanced education — not even a Bachelor's degree. 
Accountants, on the other hand, generally have at least a four-year degree. Many of them also acquire certifications — such as the Certified Public Accountant designation — through rigorous testing and continued education.
This isn't to say that bookkeeping isn't important. Bookkeepers help you track and see the data, whereas accountants help you grasp that data and understand how it affects your business.
Bookkeeping Tasks
Since bookkeepers oversee the recording of a company's day-to-day transactions, their work is heavy on the data-entry — it's quite detail-oriented work. Most of their work consists of creating and posting journal entries to the general ledger and proper subledgers.
Bookkeepers can take on other roles within your business, depending on your needs.
Preparing financial statements: In smaller businesses, bookkeepers can prepare financial statements to save you money.
Tax preparation: In some cases, bookkeepers may handle some basic tax preparation, such as gathering documents, but you'll need a CPA or EA for filing the return and tax planning.
Providing pertinent financial information to your CPA
Processing payroll
Performing bank reconciliations
Handling mail
Collecting and remitting sales tax
Delivering banks deposits
How to Choose a Bookkeeper
You have several options for choosing a bookkeeper.
DIY: Handle your bookkeeping yourself using software. This is the least expensive option, but you may not have the time to do your bookkeeping yourself.
Hire an in-house bookkeeper: Keep a bookkeeper on staff as an employee. You'll have to pay them a salary and benefits — you'll also have training and hiring costs. Small businesses generally don't need a full-time bookkeeper.
Outsource to a firm: Hire a bookkeeping service to perform your bookkeeping for you. Gain instant access to bookkeeping experts. It can seem more expensive than hiring in-house at first, but you can customize your services to your needs.
Hybrid: A combination of an outsourced firm and software. Usually, these firms leave you to handle the basics while they handle complex tasks like bank reconciliations, payroll, and sales tax.
How a Bookkeeper Helps Your Business
Every company needs to track their finances, but your time may best be spent looking for growth opportunities. By handing your bookkeeping off to someone else, you'll experience several benefits:
Increase your time: You'll have more time to run your business when a bookkeeper takes care of your financial records.
Better decision-making: Thorough and up-to-date financial records that the bookkeeper provides helps you make better decisions.
Improve cash flows: Bookkeepers can ensure your debtors pay their invoices. Your bookkeeper can also identify areas in which you can cut costs.
Compliance: Bookkeepers ensure you stay compliant with the law by keeping up with changes in financial regulations.
Maintain strong supplier relationships: Your bookkeeper will ensure timely and accurate payments to your suppliers.
Fraud reduction: An honest bookkeeper will be able to identify suspicious transactions so that you can stop fraud early.
Easier tax time: Your bookkeeper can get the right information to your tax preparer for a faster and simpler tax season.
Easier audits: With a bookkeeper handling your documentation, an IRS audit will be a lot less stressful.
Bookkeeping isn't the most glamorous job in the world, but it's critical to business success. A good bookkeeper works hard to keep your financial data accurate and get to the bottom of suspicious transactions. They may not drive revenue directly, but their work and insights are key to growing your business.
CFO Hub
Tired of spending valuable hours on your bookkeeping? When you work with CFO Hub, you can turn your attention to business growth, knowing that our experts are keeping accurate and up-to-date books. Contact us today for your free, no-obligation consultation.