Virtual CFO Services: What Is Typically Included?
The modern business landscape has evolved significantly, as have the needs of dynamic organizations. Today, businesses seek efficiency and financial expertise without the constraints and costs of traditional solutions. Enter virtual CFO services, an innovative solution that addresses these needs and propels businesses forward.
Many businesses now use virtual or outsourced CFO services to augment their financial management needs. As the complexity of running a business increases, a virtual CFO becomes a pivotal partner in navigating the challenges of financial decision-making.
Who Is a Virtual CFO?
A virtual CFO (Chief Financial Officer) is a seasoned financial expert who remotely provides high-level financial strategy, analysis, and advice. Leveraging technology, they deliver the skills and knowledge of a traditional CFO without the cost and commitment of hiring a full-time executive.
These professionals are a viable option for businesses that need strategic financial guidance but aren't quite ready or equipped to house a full-time CFO. Businesses with sizable revenue streams and expanding teams, particularly beyond the startup stage, can greatly benefit from these services.
What's Included in Virtual CFO Services?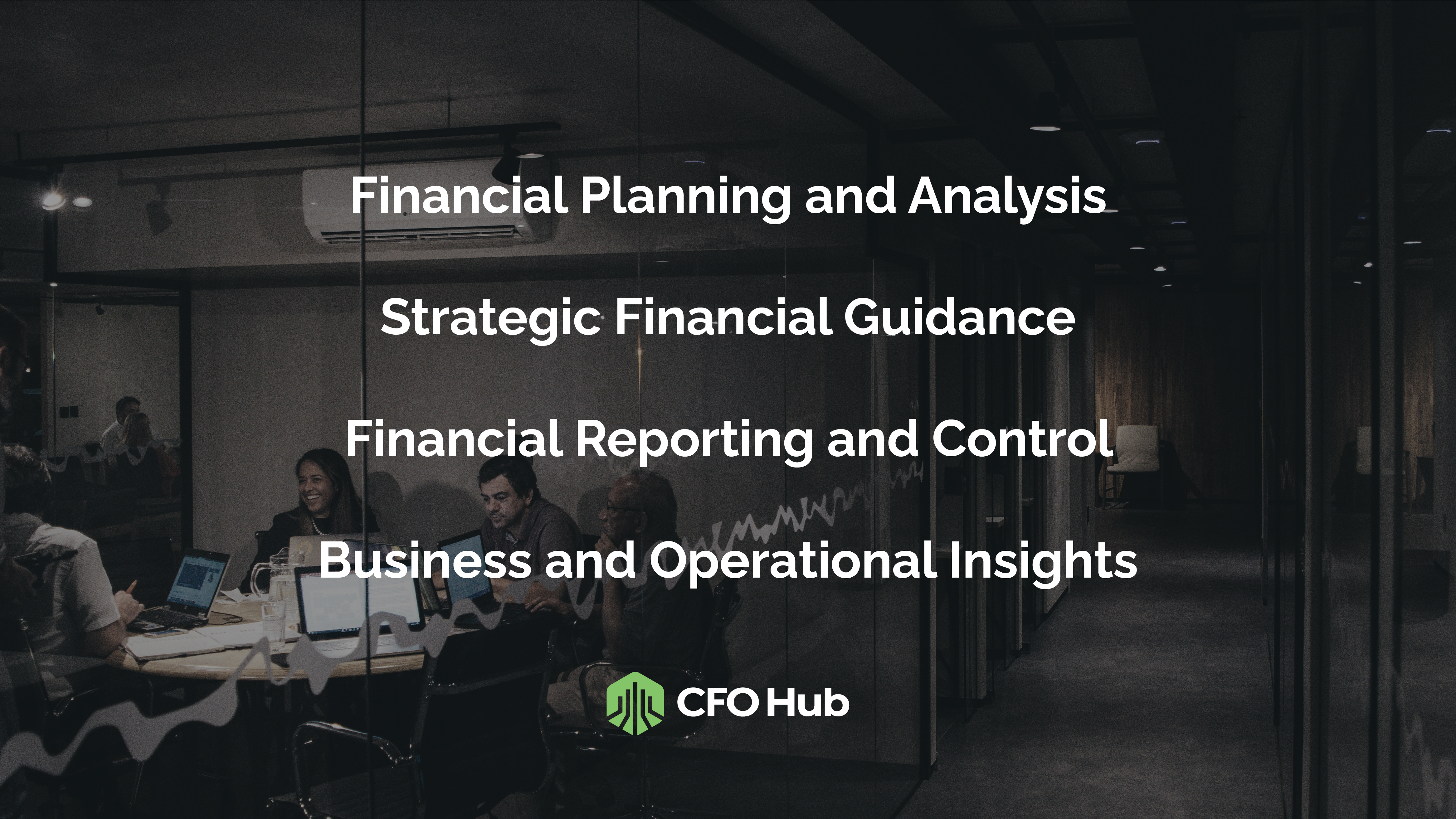 Virtual CFO services encompass a broad range of financial responsibilities. Companies can tailor these services to meet the unique growth and financial management needs of their business. Here are the key virtual CFO services:
1. Financial Planning and Analysis
Financial planning and analysis form the cornerstone of virtual CFO services, including:
Budgeting and forecasting: Virtual CFOs assist in creating detailed financial plans and projections, enabling the business to anticipate future costs and revenues.
Financial modeling and scenario analysis: They develop financial models to evaluate different business scenarios and support strategic decision-making.
Performance measurement and KPI tracking: They track key performance indicators (KPIs) to gauge the financial health of the business and its operational efficiency.
Cash flow management: They manage cash flow effectively to ensure business continuity and growth.
2. Strategic Financial Guidance
Virtual CFOs offer strategic financial guidance to businesses, encompassing several key areas. Firstly, they work closely with businesses to establish realistic financial objectives and develop strategies to achieve them effectively.
Capital structure optimization is another crucial area virtual CFOs specialize in. They offer expert advice on finding the optimal balance between debt and equity to minimize costs and maximize overall value for the business.
Virtual CFOs also play a pivotal role in risk assessment and management. They carefully assess the business's potential financial risks and devise strategies to mitigate them. This proactive approach helps businesses safeguard their financial stability and protect against potential setbacks.
Furthermore, virtual CFOs specialize in investment analysis and advice. They thoroughly evaluate investment opportunities, providing businesses with detailed insights and recommendations to support informed investment decisions. This expertise helps businesses identify profitable investment avenues and maximize returns on their capital.
3. Financial Reporting and Control
Virtual CFOs also ensure robust financial control and reporting, which includes:
Monthly and annual financial reports: They prepare detailed reports that provide insights into the business's financial position and performance.
Financial risk management: They design and implement financial risk management strategies to safeguard business interests.
Compliance and regulatory oversight: They ensure the business operates within legal and ethical boundaries.
4. Business and Operational Insights
Virtual CFOs also offer valuable business and operational insights beyond financial management. These include cost analysis and reduction strategies, where virtual CFOs analyze business costs to identify waste and inefficiency. A virtual CFO may also conduct pricing and profitability analysis, examining factors like costs, market conditions, and customer demand to determine optimal pricing strategies.
Business process improvement is another focus, where virtual CFOs evaluate existing processes to enhance efficiency and profitability. Additionally, they provide benchmarking and industry comparison services to help businesses evaluate their performance against industry standards. These insights contribute to financial health, informed decision-making, and sustainable growth for businesses.
Benefits of Virtual CFO Services
Virtual CFO services offer a wide range of benefits to businesses. One key advantage is cost-effectiveness. These services provide a low-cost alternative to hiring a full-time CFO. They enable businesses to access the expertise and experience of a CFO without incurring the high expense associated with a permanent executive position.
Flexibility is another significant benefit. Virtual CFO services help businesses scale according to their specific needs. Businesses can adjust the level of services to align with their requirements.
Virtual CFOs also provide objective and independent financial advice. By offering an external perspective, virtual CFOs deliver unbiased insights and recommendations. This objectivity enhances decision-making processes and strategic planning efforts, as businesses can rely on the expertise of a professional who is not directly involved in day-to-day operations.
Choosing the Right Virtual CFO Service Provider
Finding the right virtual CFO services provider is crucial to ensuring your business's financial health and future success. CFO Hub has a track record of excellence, a deep understanding of business operations, and the capacity to tailor services to specific business needs.
Make the smart choice. Schedule a consultation today and see how CFO Hub can help transform your financial operations.